Free Fun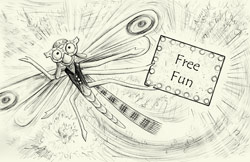 Activities for kids, characters, and runts of all kinds.
Hey! Runt Farm mini-posters! Download 'em all!
Check out our coloring pages of your favorite characters!
Run around to the back of the Barn!
Artwork and stories by kids — Post your own stuff, too!
Need a big word fast? Check out the Verbarium.
Impress your teachers and friends!